Jun. 06, 2023
Cast aluminum has many characteristics that make it a popular material for outdoor furniture and a dream choice for patio and garden furniture. The reasons are as follows:
Rustproof
Cast aluminum garden furniture has the traditional and classic look and feels of cast iron garden furniture, but it also has many additional benefits: the most important point is that cast aluminum will not rust. We can say that cast aluminum garden furniture is weather resistant. Your cast aluminum outdoor tables and chairs will resist any unpredictable weather: mild days, mixed weather, humid summers in the Atlantic Ocean... This means no rust stains on your patio and no breakdown of the pieces because of rusting joints or legs. The lack of rust on cast aluminum patio furniture is a benefit no matter where you are but may mean more to you if you live in a humid climate, such as on the coast, where salt water and marine fog can wreak havoc on all kinds of materials.
Strong and durable
Aluminum is a kind of metal, not rusting means that cast aluminum garden furniture is not only strong but also durable. Cast aluminum garden furniture will last for many seasons and celebrations!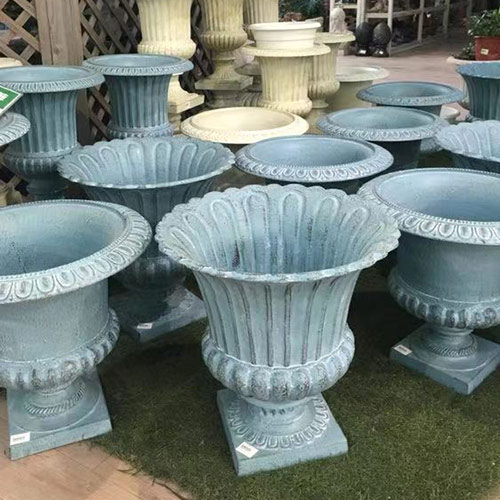 Garden Decoration
Light
Cast aluminum garden furniture, unlike cast iron pieces, is much lighter and is easy to move if you have a spacious area or need to move your outdoor furniture for any reason. Although cast aluminum garden furniture can withstand the outdoor winter very well, please make sure you do not put it outdoors in windy or stormy weather, because the chairs will fall off and get scattered everywhere. Stack them in a hidden/safe place, or fix them on the ground or wall with heavy objects or ropes.
Lots of Styles & Colors
In addition to the wide range of styles that can be created using the casting process, there is an almost unlimited number of color combinations and textures that can be achieved through powder coating and painting. Finishes can range from smooth to bumpy and from high gloss to satin or matte to fit any decor.
It is also possible to repaint cast aluminum furniture, although, as with any refinishing job, proper surface preparation is essential. Before you try to repaint any metal furniture, take some time to research what products and procedures you should use, and always take appropriate safety precautions.
Weather-Resistant
Although it is recommended that you store cast aluminum furniture in a dry place during the winter or rainy season to keep its finish looking good, you don't have to worry about the elements breaking down the structure of the furniture itself. This goes for rain, snow, and the sun's ultraviolet rays as well. Cast aluminum holds up well as outdoor furniture in all kinds of conditions.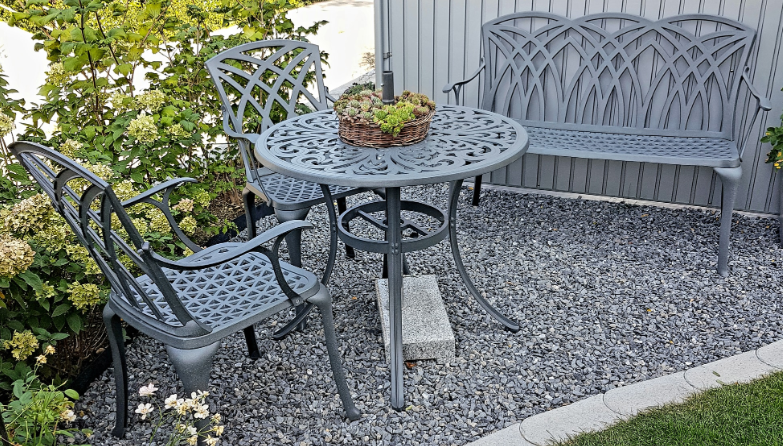 Cast Aluminum Garden Furniture
Low Maintenance
Due to its natural strength and inability to rust, cast aluminum furniture does not require much in the way of maintenance or cleaning. You should be able to occasionally spray it down with a hose or wipe it with a damp rag and a mild soap solution to clean it off, and that's about all there is to it.
However, if you see a scratch in the powder coating, you should touch it up as soon as possible, just like you would with a scratch in your vehicle's paint. The manufacturer of your piece should have some suggestions about where to find matching touch-up paint. Keep this in mind when you are shopping for outdoor furniture.
Note: Despite being low-maintenance, you may want to consider periodically applying vehicle wax or a similar product that is specially designed for keeping powder coatings looking new. A good time to do this is just before storing or covering your patio set for the winter.
Cushion Customization
Although the furniture frame itself can be made in a number of colors and finishes, you may want to consider purchasing a set in black or another neutral tone in order to have the most flexibility when changing your house color or outdoor decor. However, this still allows you plenty of flexibility to customize the cushions or pillows you use with each piece.
Metal patio furniture can be used without cushions, but many people opt for a set of outdoor, weather-resistant cushions to make sitting more comfortable. This option gives you the significant advantage of being able to switch up the whole look of your garden conversation area without buying new furniture. All you need to do is buy new cushions or reupholster your old ones, and your cast aluminum patio set is transformed.
Final Thoughts About Cast Aluminum Furniture
Adding cast aluminum patio furniture to your outdoor space can create an inviting and tranquil area for years to come. This beautiful, low-maintenance material is available in the form of benches and chairs for garden areas, bistro table and seating sets that fit comfortably on small patios or balconies as well as club chairs and full-size dining tables for outdoor entertaining when you have plenty of space. The options are almost limitless, and cast aluminum is worth the investment. We are Cast aluminum garden furniture suppliers. If you are interested in our products, please feel free to contact us.