Nov. 30, 2020
Common Problems Of Aluminum Casting Gate
1. Will the surface of the door fade and peel off after a period of use?
Answer: No. Solid cast aluminum, all kinds of indoor and outdoor cast aluminum products manufactured will not fade, peel off, and have stable performance.
Answer: Structural advantages of cast aluminum carved doors:
Advantage 1: The overall use of excellent three-dimensional shape, solid, pure aluminum, the entire seat is cast to form, the strength is increased by 200%, and the surface is made of car paint and fluorocarbon coatings. The various indoor and outdoor decorative products manufactured can remain colorless for a long time. Rust, corrosion resistance, and good stability.
Advantage 2: Heavy-duty hinges permanently guarantee the coaxiality of the door, keeping the door easy and free to open and close.
Advantage 3: Cast aluminum door, high-temperature resistance, super fireproof, moisture-proof, and impact resistance.
Advantage 4: Specialized model, meticulous work, hand-made, the decoration style focuses on cultural connotation and the trend of the times, and adapts to the aesthetic needs of different customer groups.
3. What material is the aluminum casting gate made of?
Answer: The cast aluminum door adopts modern high-tech processing technology, solid cast aluminum, and the whole seat is cast. Imported paint makes the colored surface have the advantages of bright color, gorgeous color, soft, elegant, and strong finish. The various villa doors and courtyard doors manufactured are novel and beautiful, elegant and unique, luxurious, and spectacular.
4. How thick is the structure of the aluminum casting gate?
Answer: The structural thickness of the cast aluminum door is: 3.0cm-6.0cm and the whole board is carved with 8cm. The special thickness can be customized according to customer requirements. We use all-aluminum material for seamless welding and a built-in aluminum honeycomb.
5. Can the door be repaired during installation or use?
Answer: The damage to the door can be repaired during installation and use, but it depends on the severity of the damage. For the paint film that has been slightly damaged, it can be repaired by sanding, grinding, and polishing. For the severely eroded paint film, the eroded cast aluminum door paint coating should be completely removed, and the traces of corrosive substances should be completely removed, and then re-spray, or perform local repairs or anti-factory repairs.
6. Why is the surface of some doors undulating?
Answer: The cast aluminum door has a certain degree of slight deformation after surface shot blasting, which is a normal phenomenon within the standard range.
7. What is the application scope of the cast aluminum gate and cast aluminum fence?
Answer: Cast aluminum door and cast aluminum fence are mainly suitable for high-level supporting facilities such as villas, luxury apartments, garden villas, real estate, super five-star hotels, residential areas, industrial plants, logistics and warehousing, and municipal engineering.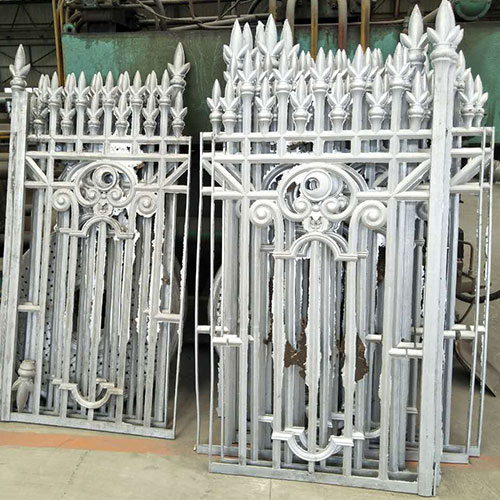 We are Aluminum patio furniture manufacturer. If you are interested in our products, please feel free to contact us.