Dec. 23, 2022
With simple and regular maintenance and care, cast aluminum patio furniture will bring years of enjoyment. Although patio furniture is specifically designed for outdoor use, years of sun and rain can cause damage to it. Over time, aluminum furniture will be weathered, and if you are not careful, the gloss will fade. Here are the steps you need to follow to clean and maintain your cast aluminum furniture.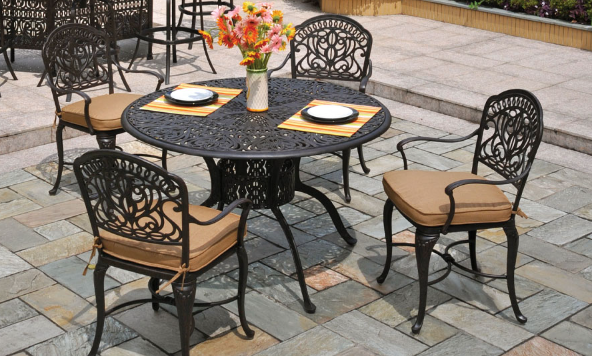 Cleaning Cast Aluminum Furniture
ㆍRemove dirt and grime
You should avoid letting dust accumulate on the metal frame, as this may cause it to become more difficult to clear over time. In addition, if the pipe is not removed for a long time, the accumulation of dirt and dust will corrode the surface and cause serious damage. Occasionally washing with mild soap and water, then rinsing and thoroughly drying towels are typically all that is needed. Do not use any abrasives, cleaning agents, or bleaching agents, as these may damage the paint surface.
ㆍPay attention to calcium accumulation
If you notice calcium deposits on cast aluminum furniture, you can try to use 1:9 distilled white vinegar and 9:1 water to help remove it. Limescale does not look clean, it accumulates quickly, and it can damage your furniture. It is mainly composed of calcium carbonate and is caused by hard water. It can show many different colors, mainly chalk white. Before you use the solution, you should test the solution on an inconspicuous area of the frame to make sure it does not fade to the surface.
ㆍPrevention and treatment of severe oxidation
Although aluminum does not rust, oxidation can become a problem. To avoid serious oxidation, when you find small spots, deal with them as soon as possible. If you let it go, it will become very difficult, even if you use metal polishing. Taking care of your furniture is worthwhile in the long run, but be careful about the products you use and make sure you follow the manufacturer's guidelines.
Step by step:
ㆍSpray a cleaner onto the aluminum
ㆍScrub all surfaces of the furniture with a soft-bristled brush or sponge
ㆍRinse thoroughly with clean water
ㆍLet furniture air dry (preferably in filtered sunlight or partial shade) completely before putting cushions back on or storing
ㆍBe sure to check out patio furniture covers to give your furniture some added protection!
Caring for Aluminum Furniture
When exposed to the atmosphere, aluminum forms a thin layer of oxide on the surface. This microscopic layer protects the metal from water exposure, hence why quality aluminum resists rusting. This resistance makes maintenance and upkeep fairly simple, and following these easy steps can help ensure your furniture stays looking like new!
ㆍIf you notice a slight discoloration on aluminum furniture, clean with mild soap and warm water
ㆍIf aluminum has become rough to the touch, smooth the surface with steel wool and soap, but make sure to remove all traces of steel wool after cleaning
ㆍDrain any water that has accumulated inside the frame by removing foot caps from the bottom of the legs
ㆍRemember not to use harsh commercial cleaners on anodized aluminum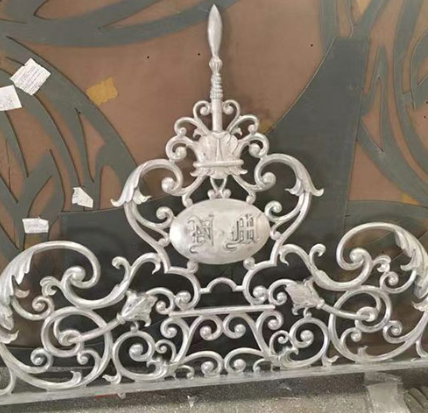 Preventive Maintenance
ㆍUse wax or oil
If your cast aluminum furniture is shiny or smooth and has no texture, you can also use fine car wax to keep it. This will help reduce dust and debris accumulated on the surface of the frame. For textured surfaces or finishes at home, mineral oil or baby oil can be used regularly to prevent dirt accumulation and restore luster.
ㆍCheck for scratches or debris
You should regularly check the surface of cast aluminum furniture for scratches or debris. If you find any bare metal exposed, you should contact your furniture manufacturer or retailer for information on how to fix it. Depending on the size of the area, you can use complementary color paint to correct this problem. Touch-up paint in matching frame colors is usually through your retail dealer or furniture manufacturer.
ㆍPrevent water accumulation
In addition, you should prevent water accumulation in the frame by removing the adjuster slide or foot cap from the bottom of the leg. At freezing temperatures, allowing water to collect inside cast aluminum furniture may cause damage to frames that are not normally covered by the manufacturer's warranty.
ㆍUse furniture covers
The furniture cover is very good to protect your beautiful assets from bad elements. A high-quality furniture protective cover can greatly extend the life of the furniture, so this is one of the best investments. In order to keep your aluminum furniture in its best appearance, you may need to use a protective furniture cover when not in use for a long time.
The Last Words
Aluminum patio furniture has remained the top choice for consumers for nearly a century. Durable, heavy-duty and attractive, aluminum outdoor furniture requires minimal care to keep your pieces looking like new, and the wide array of available styles match any outdoor space.
Cast aluminum patio furniture, or solid aluminum, is made by pouring hot metal into a mold, making this patio furniture more stable and capable of showcasing more intricate designs. Extruded aluminum patio furniture is hollow, more lightweight than cast aluminum and easier to move.
We are aluminum patio furniture manufacturer. If you are interested in our products, please feel free to contact us.