Jul. 19, 2019
Why do aluminum railings replace iron stainless steel? Here the Aluminum Casting design service China would like to share.
With the development of economy, social progress, aluminum art products with rust, wear resistance, corrosion resistance, oxidation prevention decoration, and in green environmental protection, health and visual aesthetics meet people's needs. As a result aluminum art products have been popular favorite, the future trend will replace the iron art home decoration main materials. Why is aluminum art so popular? What are the advantages of Aluminum Fence Casting? Analyze the six advantages of aluminum art products:
1, corrosion resistance, maintenance free, safety and environmental protection
Aluminum alloy in the natural state of good mechanical properties and corrosion resistance, can fully meet the anti-corrosion control requirements as a protective material, more suitable for high-rise buildings. Long life, no maintenance, no rust pollution, safe and stable.
2, good plasticity, many styles and scientific structure
Aluminum alloy has good hot extrusion properties.according to the best mechanical structure and appearance technology requirements, it can be made into various kinds of complex hollow and solid profiles, which can not only improve the mechanical properties of the same amount of materials, but also increase the practicability and decoration of the products.
3, light texture, high strength, adapt to The Times
Aluminum taijin high structural strength, and only less than a third of the mass of steel, increased the overall load-bearing capacity of the building. With good toughness, weldability and other advantages, especially suitable for high-rise buildings.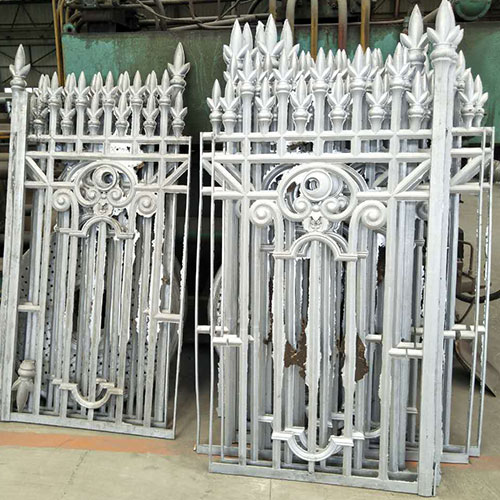 4, soft texture, beautiful color, highlight personality
Aluminum alloy excellent surface treatment, good adhesion fastness and surface texture of aluminum alloy products can not only have a variety of surface treatment options, and stable and durable, from the color and appearance of guardrail products to meet personalized, diverse and different aesthetic needs has become possible.
5, all welded, not loose, safe and stable
Balcony guardrail production on the use of full welding technology, so that the crossbar and the vertical bar of each contact point into one, put an end to the use of fixed connector loose and may produce unsafe risks, improve the guardrail overall impact resistance capacity.
6, standardization, factory, convenient installation
According to the requirements of the domestic market and the engineering installation habits, we have developed a number of products suitable for different styles and engineering conditions, and carried out standardized production, which not only meets the requirements of rapid mass production, but also provides guarantee for the quality control of the whole process of production, transportation and installation.