Aug. 12, 2021
Wrought Iron vs Aluminum Fencing
Are you deciding whether it is a cast iron or aluminum fence? Well, you have come to the right place. Like any fencing, aluminum and wrought iron have both advantages and differences.
When you know their differences, you can more consciously decide what is right for you!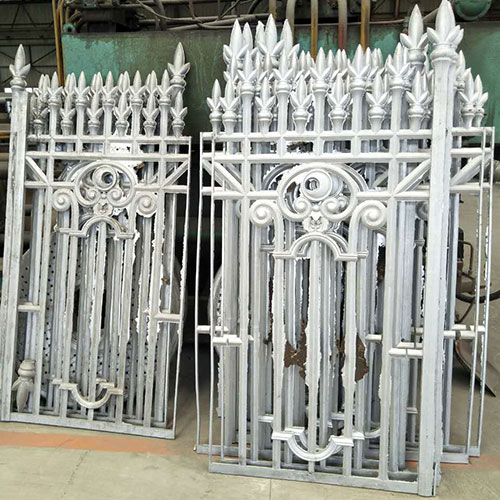 Aluminum Fencing
Wrought iron fence
The iron fence surrounding your home provides a timeless classic aesthetic that evokes the feel of a European castle in central Nebraska! Use iron garden fences to add a fairytale look to your yard, or use decorative iron fences you create a classic atmosphere.
Wrought iron is a durable material that can be used for a long time, however, it is certainly not maintenance-free. If the iron fence is not properly maintained, the rust will corrode it over time.
There are some ways to prevent your wrought iron fence from rusting. we suggest:
Check your iron fence regularly
Carry out occasional repairs when necessary
Add protective wax, sealant, or paint every few years
Install your decorative fence
The last one is the key! Regarding the quality fence beyond and for your wrought iron fence to ensure that it will not rust or chip. Iron fence posts are reinforced with concrete so that your fence can withstand the bad weather.
Aluminum is a longer-term affordable fencing option. In contrast, aluminum fences require little maintenance during their service life. It does not require any sealant or paint, however, you can choose to have it powder coated so that it looks fresh for years.
Aluminum fences are not as elegant or complicated as wrought iron fences, but they still give you a high-end look without the price tag of wrought iron fences. Aluminum is also more functional because many people have different reasons to install a new fence, it may be more suitable for your situation.
In addition, aluminum fences are environmentally friendly because aluminum can be recycled. This is the only kind of fence material that can be recycled! Once its life is over, the aluminum fence can actually be transformed into a new fence or something completely different.
Have you made a decision?
We are Aluminum fence manufacturers. Please feel free to contact us if you are interested in our products. If you still have questions, it's okay! Please call us and we will be happy to make the right choice for your property.