Jul. 14, 2021
Top Reasons To Choose Aluminum Casting Gates
Due to its strength and durability and many style options on the market, aluminum casting gates are gaining more recognition than wooden doors. There are many ways to protect your home, one of which is to install a door. Aluminum gates not only increase the attractiveness of your property but also prevent burglary and protect your home and property.
Here are some of the benefits you can get from aluminum casting gates:
Cost
Aluminum doors are significantly cheaper than wrought iron and can simulate the appearance of iron without paying too much. If you like very ornate and intricate doors, the price of wrought iron may be prohibitive, but the price of aluminum may be affordable, with the same design.
Appearance and selection
For the open appearance of wrought flat iron doors, aluminum is suitable for the box. It can be a classic-looking door or a gorgeous door like an iron fence. There are many color options for lightweight aluminum fences, as well as sizes and designs, such as swinging or moving gates.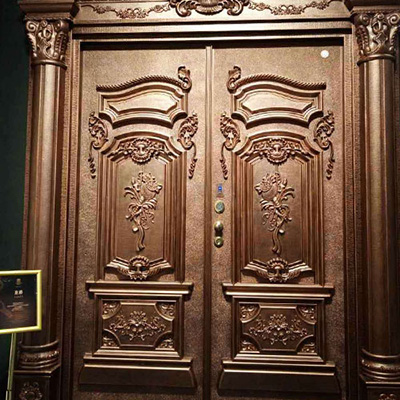 Aluminum Casting Gates
Weight
Aluminum doors are very light, which makes them easier to open than wrought iron. Although this may not be a problem when it comes to automatic doors, there is no advantage of electricity if you have to open these doors. Aluminum has much less influence on the rollers of the falling gate and the handles of the swing gate. The aluminum gate has a longer service life because the material is lighter.
Repair
Aluminum will not rust, so there is no need to clean, polish, rust, or paint the wrought iron. The lightweight aluminum gate does not require maintenance, and its enamel coating can withstand the effects of various weather without breaking, cracking, or peeling.
Durability
Aluminum gates are certainly a long-term choice. In order to get the best choice when it comes to light aluminum doors, you need to consider various architectural options. Some aluminum gates can be made of hollow aluminum tubes. Although they look as beautiful as wrought iron and have no weight or hassle, they may not be so safe.
Conclusion
If you want a safer and more convenient choice of other doors, the aluminum casting gate is the best choice. Whether you choose a single hinge, double hinge, or sliding door, you can improve the safety of your home. If possible, you can also do it automatically. This is especially beneficial if you go home late at night or when it rains. Most of us know the added security and personal privacy benefits of having a gate at your premises. Not only does it add considerable resale value and a touch of decoration, but you get more safety features as well.
We are aluminum casting gate suppliers. Please feel free to contact us if you are interested in our products.