Mar. 05, 2020
The biggest feature of cast aluminum fence products is that there is no welding, and the accessories and pipes are perfectly combined to achieve beautiful, strong and applicable, and meet the standards of the American Fence Association. Balcony guardrail process: It is assembled by welding without welding and crossing vertically. Compared with the traditional iron fence, the installation is faster and the appearance is more beautiful.
Cast aluminum fence processing technology is diverse and versatile. Aluminum alloys are classified into anti-rust aluminum, hard aluminum, super-hard aluminum, etc. Each type has its own scope of use for users to choose from. Of course, most of our decorative aluminum materials are rust-proof aluminum. The aluminum alloy railings made are affordable and are the main products of major railing manufacturers. The cost of aluminum alloy railings is low, and the processing technology is more convenient. Moreover, the same parts can be produced in large quantities using one processing technology, which also reduces the production cost of aluminum alloy railings. Its material properties are light, easy to process, and not as strong as carbon fibers in terms of resistance.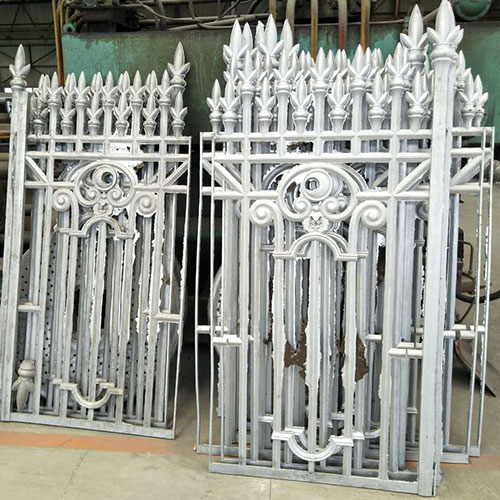 Cast Aluminum Fence
Balcony railings are one of the landscaping and protection facilities on the outer edge of the balcony. They are widely used in modern multi-storey buildings. The balcony is an extension of the building's interior. It is a place for residents to breathe fresh air, dry clothes, and place potted plants. The balcony railing design needs to take into account the principles of practicality and beauty. If the balcony railings are well arranged, the sky balcony can also become a pleasant little garden, so that people can enjoy the most lovely colors in nature without leaving home, and breathe the fresh and floral air.
Custom cast aluminum fence due to the material factors, coupled with the uneven level of production technology, there are poor weather resistance, easy to brittle, easy to rust, easy to overcome problems such as rot. What advantages does aluminum art fence have over ordinary fences?
There is a big difference in the material of the two. Aluminum fences have the following advantages:
Does not rust for life-no human and material maintenance is required for surface maintenance every year, and it will not rust in humid, high acid and alkali air. For the decoration of the owner, choosing new decoration materials can avoid the trouble caused by rework. Hardness-The hardness of aluminum profiles can resist tensile forces and large impact forces.
Corrosion resistance—The cast aluminum railings and cast aluminum guardrails produced by Dalian Lianjiang Metal Co., Ltd. use aluminum alloy as the main material, which is light in weight and high in hardness. The surface is electroplated, which has a strong finish, novel and beautiful, beautiful lines, and oxidation resistance. Aluminum art products have diverse colors, oxidation resistance, not easy to break, high strength, strong weather resistance, environmental protection, high cost performance, and rich resources. After surface treatment such as paint or powder, it can further enhance its protective performance, so it is extremely corrosive, so it can be used safely in air-polluted cities or sea salt-corrosive coastal areas, and it will solve your worries about maintenance. .
Therefore, many users will choose the Extreme Will aluminum fence instead of the ordinary fence, the cost is affordable, the installation is simple, and it is not restricted by the relief of the terrain, suitable for large-scale use.
The plasticity is extremely strong, and various specifications and styles of fences can be created according to customer requirements. Natural beauty: thick, simple and bright. Rugged, durable, securely connected, and structurally sound.