Oct. 13, 2022
Strengthen your property lines with sturdy aluminum casting fences. These fences are virtually indestructible and highly customizable. Install fences that look good, are safe, and will last for generations.
Pests, weather, and wear are beyond the reach of aluminum casting fences
If you give priority to strength and life, then a carefully crafted aluminum casting fence is your best choice. Although aluminum casting fence is a lighter material, it still has the strength of a wrought-iron fence. They are cheaper than barbed wire, but they last. The weather can't disturb it, the wind can't move it, the pests can't eat it, so there's no need to re-fence it after ten years. High-quality aluminum casting fences are made with protective powder paint, making the metal fences almost indestructible. No matter how much rain or flooding your house gets, it won't rust or corrode.
Aluminum casting fence is resistant to nature
Chemically, aluminum is not susceptible to severe weather. Thanks to its powder coating, the aluminum casting fence is resistant to almost anything. Unlike steel and iron, aluminum does not rust. Unlike wood, aluminum does not rot. It will remain strong even after enduring many ice, hail, and snowstorms. No matter what type of climate you live in or how much you wear out, the aluminum casting fence will not be dented or damaged. Color and quality won't be bothered by too much rain or moisture. The color won't fade after years of sunlight.
Further protection
These aluminum casting fences are very strong and durable, providing a solid guarantee of life. Customers can rest assured that their fences will last, and if there are any defects in the manufacturing process that affect quality, a free warranty will protect your investment.
Intelligent design: Lightweight and innovative structure
In addition to its incredible strength, the aluminum casting fence has other ingenious design features that make it a prime choice for residential and commercial properties. The elaborate design also eliminates the need for screws, which rust and loosen over time.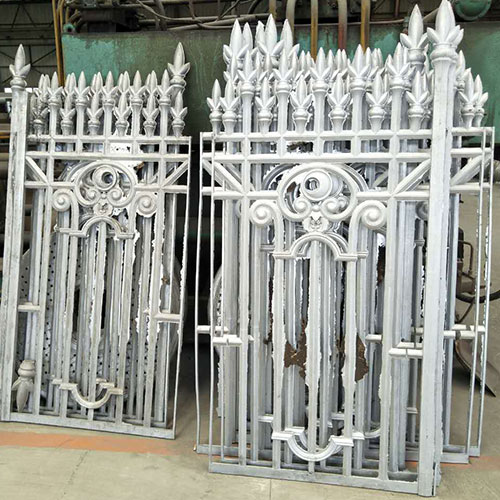 Aluminum is a lightweight fence material
Aluminum cast fences weigh much less than iron, steel, or even wood fences. Its weight is comparable to that of vinyl and PVC. Because of their lightweight, aluminum fences are much cheaper to manufacture and transport. This helps to reduce costs. Because aluminum is light, it also makes handling during installation easier. Lightweight means the labor cost of professional installation is lower. This also makes it easier for you to install fences yourself.
Aluminum casting fence: Grade of aluminum fence
If you are buying aluminum casting fences for industrial use, you should be aware that different levels of aluminum are available. Before deciding on your fence, research which aluminum suits your needs. No matter which grade you choose, the aluminum fence is strong in all seasons.
We are Aluminum casting fence suppliers. If you are interested in our products, please feel free to contact us.