Aug. 11, 2022
Once thought to be old-fashioned or only for rustic cabins, cast iron fireplaces are making a comeback! Modern cast iron fireplaces are environmentally friendly and energy-efficient heating appliances. Whether you are looking to heat an entire home, supplement your existing heating system, or simply add ambiance, the following are a few of the benefits of installing a new cast iron fireplace in your home.
STRONG HEAT OUTPUT & ENERGY EFFICIENT
Cast iron fireplaces are used as a significant source of heat in many homes. In addition to heating rooms quickly and efficiently, it retains heat longer than other wood-burning stoves. This allows the residual heat to be released into the room for longer periods of time. Because cast iron fireplaces are available in a variety of sizes with different heat outputs, you can find the perfect stove to meet your home's heating needs.
Most open fireplaces are extremely inefficient, only converting about 15% of their fuel into heat. Because of their closed system combustion, stoves are significantly more energy efficient. Most stoves burn with at least 80% efficiency. The natural heat retention qualities of cast iron make the inside of it hotter, helping to create complete combustion. This helps reduce fuel costs while maximizing the stove's efficiency.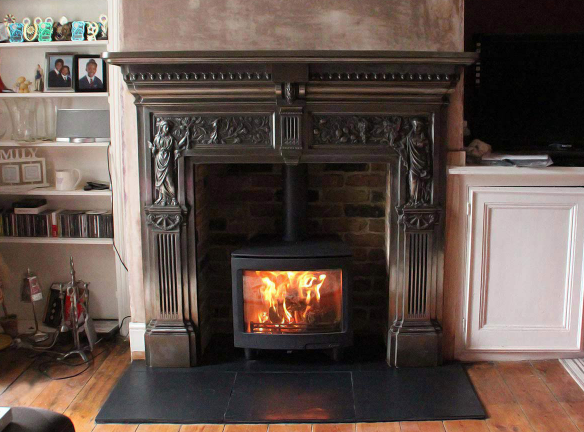 STYLISH DESIGN & RELIABLE
Available in both classic and contemporary designs, cast iron fireplaces can become a beautiful focal point in any room. Cast iron fireplaces have a wide variety of design choices; cast iron can even be porcelain coated to create an entirely unique style.
If severe winter weather causes the power to go out, the last thing you want to worry about is how to keep your family warm. Cast iron fireplaces are not powered by electricity or gas; if the power goes out, you can continue to heat your home. No matter the weather outside, you can rest assured that your family will be warm and comfortable inside.
FUN FOR THE WHOLE FAMILY & MONEY-SAVING
A new cast iron fireplace will quickly become the center of your family's memories. Stoves create a warm and welcoming ambiance in your home. Likewise, some stoves can even be used as a cooking appliance, opening up endless possibilities for your cast iron fireplace.
Because cast iron fireplaces help burn wood more completely, they help reduce heating costs each season. Likewise, using a wood-burning stove as a supplemental heat source can help reduce electricity and gas heating costs each month. While a new cast iron fireplace is a significant investment, most homeowners can recoup the cost of the stove through energy savings in as little as a few years.
There are some advantages of a Lianjiang cast iron fireplace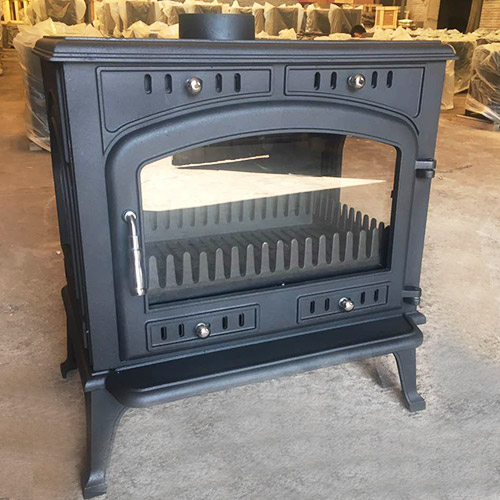 ㆍEasy to install: no longer limited to single buildings such as villas and townhouses. It can also be used in general residences, apartments, hotels, and office buildings, regardless of room size and height.
ㆍEasy to use: simple ignition. Wood-burning fireplaces can only be ignited with a match; gas fireplaces all use electronic switch technology, which can freely adjust the flame size, set temperature, and switch on according to the indoor temperature and personal preferences.
ㆍSafe and clean: The airtight combustion chamber and natural balance flue technology are used to discharge all exhaust gas and respirable particles to the outside to protect health and safety. The family's top aluminized steel, high temperature resistant microcrystalline explosion-proof ceramic glass, and triple gas safety control valve ensure that there are no safety hazards.
ㆍEconomical and comfortable: It adopts natural gas, logs, or special environmentally-friendly charcoal are used as the heat source. The heat efficiency is high, the operating cost is much lower than other heating products, and it is economical and practical. It is heated by convection and thermal radiation, and the heating is uniform, and the heating method is natural and comfortable.
ㆍElegant and generous: The cast iron fireplace design is calm and generous, equipped with large glass see-through windows, which is beautiful and generous. It perfectly integrates the long-standing European and American fireplace culture with modern home design concepts, and it is practical, tasteful, and romantic. It has a decorative landscape effect that other heating equipment cannot replace.
ㆍPerfect service: The after-sales service of modern real fire fireplaces is not to be underestimated, at least there are no worries about using it.
We are cast iron fireplace suppliers. If you are interested in our products, please feel free to contact us.