Jul. 30, 2021
Considering the difficult environment that the entire world is facing, the Spring weather is finally looking to make an appearance- this is the perfect time to go to your garden, and give it a freshen up after the long winter. Although it is very tempting to forcefully clean or bleach any outdoor garden furniture, we strongly advise against it! Here are some simple and valuable suggestions that you can follow. We created a guide on how to clean and care for cast aluminum garden furniture to make it look as good as new.

Cast aluminum is an extraordinary material for outdoor furniture-it looks great, it is a very versatile material, and relatively cheap, if you love it, it can also be used for years! Here are some tips on how to clean and Recommendations for maintaining aluminum garden furniture.
The difference between aluminum furniture and cast aluminum furniture:
The most obvious difference between aluminum furniture and cast aluminum furniture is that aluminum furniture is usually hollow, while cast aluminum is solid and heavy, but this does not necessarily mean that cast aluminum is more durable. Cast aluminum garden furniture will not rust but will produce a powdery white oxide layer. When your furniture is exposed to the natural environment, it will happen naturally. However, if you know how to properly remove cast aluminum oxidation is not as difficult as you think.
Use of safe cast aluminum cleaning products:
Alkaline-based cleaners will further alumina, so please avoid using products containing ammonia and other chemicals, and any degreasing cleaners containing trisodium phosphate. You may find ammonia in the following cleaning products:
Window/glass cleaner
Floor polishing wax
Bathroom cleaners (including toilet cleaners)
Multiple cleaners
Stainless steel cleaner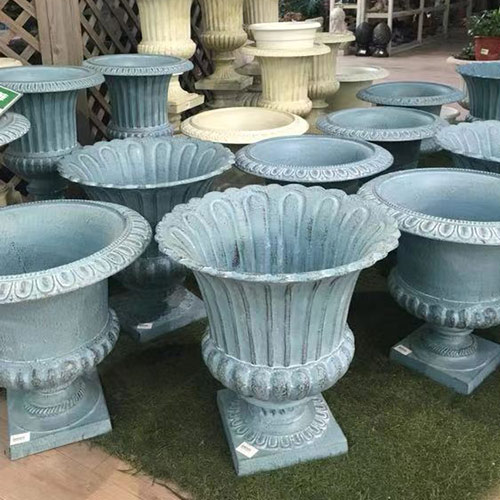 Garden decoration

If your aluminum garden furniture has only light oxidation (slightly tarnished), then before you buy any expensive off-the-shelf products, you can try a simple acid solution of 1 part white vinegar and 1 part water. However, if you have been away from it for a few years, let us face it, we have done this in the past, and then let your cast aluminum garden furniture shine, just follow these simple steps:
Use a hard wire brush to remove any loose debris from the surface. It will be perfect for you: aluminum garden table, aluminum garden sofa, and aluminum garden bench. However, for more complex designs on aluminum garden chairs, consider using a hard wire brush with the size of a smaller toothbrush.
Wear rubber gloves and scrub around the frame with a non-abrasive scrubbing pad dipped in marine aluminum cleaner.
Rinse the frame with warm water and dry it with a towel.
To prevent corrosion and add a little extra gloss, you can apply a very thin layer of car wax with a cloth. However, it is important not to do this too frequently, as it will start to damage the material.
Aluminum Casting Garden Decoration Suppliers remind you that washing must be minimized, so as to prevent oxidation.